The world had already been turned upside down when we launched the Togetherness Index in 2020.
We were in the grips of the first wave (the first lockdown) and weren't sure what was to come. The results indicated there was a sense of solidarity and resilience in our community. Perhaps this was off the back of some key messages being shared by Government at the time such as 'Staying apart will help keep us together.'
Back then, the results of the inaugural Togetherness Index indicated that perceived effectiveness, trust and influence of Government was solid. Their stance and key messages on the pandemic appeared to be cutting through reasonably effectively. But a lot has changed since then, including Australian's views about how people and institutions communicate messages of Togetherness.
You may recall in the first iteration of the index; we uncovered five defining elements that are critical for communication which drives togetherness. They are:
C

loseness

: how close we are to different groups

L

istening

: whether we feel listened to by people and institutions

O

ptimism

: how people feel after seeing, hearing or reading a message

S

tories

: how exposed we are to stories from other backgrounds

E

ffectiveness

: how effective the communication we see, hear and read, is
We've measured these five elements over time and derived an index score for each. The overall combined average makes up the Togetherness Index. Let's take a look at the trend series for each element which paints an interesting picture.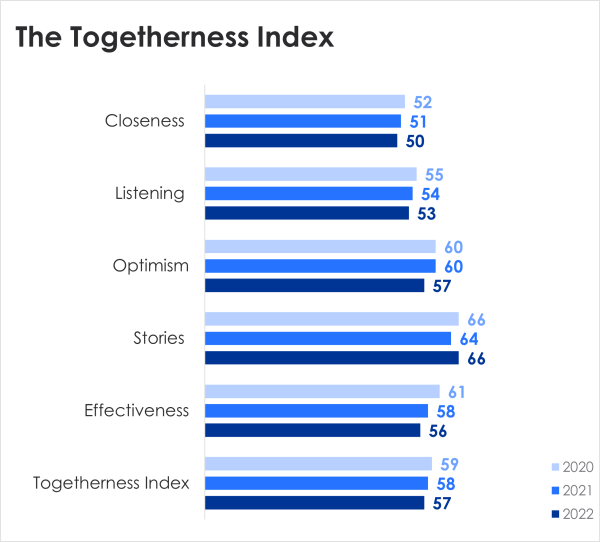 Although it looks like there hasn't been much movement, the downward trend on most elements (except stories) is concerning. It's highlighting that communication which influences togetherness has weakened over the last three years (especially optimism and effectiveness).
Perhaps this isn't surprising given there has been many significant (and in some cases life changing) events in Australia (and overseas) dividing communities rather than bringing them CLOSER. Think, COVID-19, federal and state elections, the Ukraine War, floods, bushfires, high cost of living, cybercrime – the list goes on.
What can be done to buck the trend? Well, perhaps some stability in the world would make a difference but who knows what the future will bring? For some practical guidance, I defer to communication expert Darren Behar, who penned the following article recently which includes some great tips and suggestions. I encourage you to have read (It will only take a few minutes).
As for the research, we'll continue to monitor how we're progressing and hopefully over time, the tide will turn.
If you're interested to find out more about the key insights and trends from the Togetherness Index, please feel free to get in touch. I look forward to hearing from you.