Hi. I'm Paul Di Marzio and I'm

pleased

to share the news that I

've

joined SenateSHJ as the Head of Research. I

'

m

excited about this new journey and the prospect of what lies ahead.
How did I get here? To answer that question properly, I need to tell you about where I've come from first.
This is a picture of my dad Kim and I. It says a lot about our relationship. The words love, respect, admiration and role model come to mind.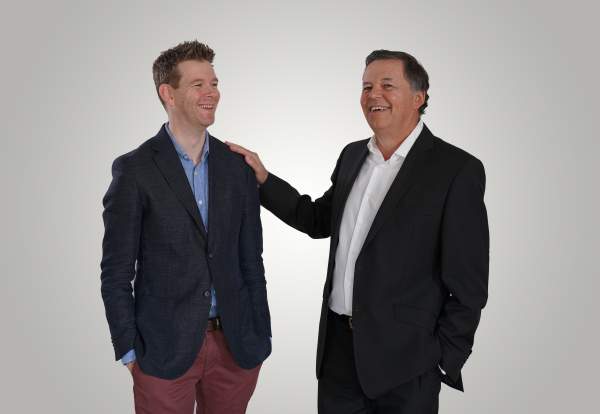 Aside from being my dad, he has also been a mentor and leader to me for most of my professional career. We've worked together at Di Marzio Research since 2006.
During that time, he taught me so much about running a market research business. He did this in a respectful way and always valued my input even when I was inexperienced. But as time progressed, I grew in confidence and took on more and more responsibility to drive the business forward, eventually taking ownership of Di Marzio Research in 2020.
It's funny how things go full circle. At the outset, Dad would lead, and I would follow. By the time I took over, the dynamic had flipped – I lead the way and he was guided by me.
Some like to say, 'timing is everything'. Perhaps in this case, timing wasn't ideal. I took over financial control of a business just before we were hit by a global pandemic! Again, I looked to Dad for advice and reassurance, and he was there to provide it.
We managed to navigate our way through the uncertainty of the pandemic with the support of our loyal clients. One of them being SenateSHJ. Our relationship began in 2010 when we collaborated on a large project for the Department of Health. Over this time, the relationship evolved and strengthened to the point I became a consulting partner, specialising in research. I worked on numerous projects with various team members. Most notably the Togetherness Index.
This experience gave me a better sense of how impactful insights-led communications could be. It also demonstrated the market demand for this type of service.
In the second half of 2021, SenateSHJ offered me the opportunity to join their team by acquiring Di Marzio Research. There was a mutual respect between both parties, and we could see a strong alignment of values along with complimentary skill sets.
To be honest, I didn't have a clear idea about the direction I wanted to take Di Marzio Research. I didn't have growth ambitions, I just wanted to weather the storm of the pandemic with a steady flow of work and income. In the back of my mind, I had hoped the business may be acquired in the long term (perhaps 5-10 years). So, receiving this offer within two years of owning the business (during a global pandemic), took me by surprise. But it was a blessing in disguise.
At the start of 2020 I questioned the timing of taking on a business and was worried about its prospects. But SenateSHJ's offer presented me with stability and the potential for growth both personally and professionally. It also gives me an opportunity to educate the wider business about research and it's benefits which I'm sure will be rewarding. Who was there to help me realise that? Dad of course.
So, I gladly accepted the deal and that's how I became a part of the SenateSHJ family at the beginning of 2022. Thank you to SenateSHJ for welcoming me with open arms.
As my professional journey continues with this new chapter, it's hard to predict what lies ahead but I am feeling united and energised (two of SenateSHJ's core values).
United because I'm now working alongside a great team of ambitious and interesting workmates who I can learn from but also educate.
Energised about the prospect of building the SenateSHJ insights practice with Aravin Stickney and Michael O'Connor and sharing this journey with the rest of the team.
I look forward to meeting and working with you.
Paul Di Marzio