ChatGPT is an Artificial Intelligence (AI) chatbot that, only months after launch, is already changing the way professionals work in fields like customer service, marketing, healthcare, and education. In this overview, we'll explore what ChatGPT is, its impact to date and what the future may hold.
What is ChatGPT?
ChatGPT, or Chat Generative Pre-trained Transformer, is a chatbot that simulates human conversation through text responses. It uses a language model that has been pre-trained using publicly available text data across the internet including web pages, books, news articles, social media posts, online encyclopaedias and product reviews.
What are the user numbers?
Launched on 30 November 2022, ChatGPT amassed 57 million monthly active users in its first month and over 100 million by February 1. For context, TikTok took roughly nine months to hit those numbers when launched.
Who is behind it?
ChatGPT was developed and released by OpenAI, an artificial intelligence (AI) research laboratory. OpenAI was founded by Sam Altman, Greg Brockman, Ilya Sutskever, John Schulman and Elon Musk in December 2015.
Is Elon Musk still involved?
Musk left OpenAI's board in 2018 to avoid potential conflicts of interest with his role as the CEO of SpaceX, which also conducts AI research. He no longer holds a stake in OpenAI.
What about Microsoft?
Microsoft invested US$1 billion in OpenAI in 2019 as part of a partnership to develop new AI technologies and platforms. OpenAI is not owned or controlled by Microsoft, but Microsoft have already integrated ChatGPT into a beta version of their Bing search engine.
Why so much hype?
ChatGPT harnesses artificial intelligence and its advanced training and learning algorithm. As a result, it rapidly generates text responses to chat prompts that closely match human language patterns and nuances.
Are AI powered tools new?
No. Popular tools have already been using AI for some time, including Siri and Alexa, while online advertising tools such as Google Ads and Meta's Pixel use machine learning.
When and how to use ChatGPT
The more specific and detailed the prompt, the better ChatGPT is likely to perform in generating relevant and accurate responses. ChatGPT can create text responses, or produce tables or lists based on its training data.
Who do I access ChatGPT?
Go to www.ai.com, and register for an account with an email address, or a Google or Microsoft account.
Can it write a 3,000-word essay for me?
Yes.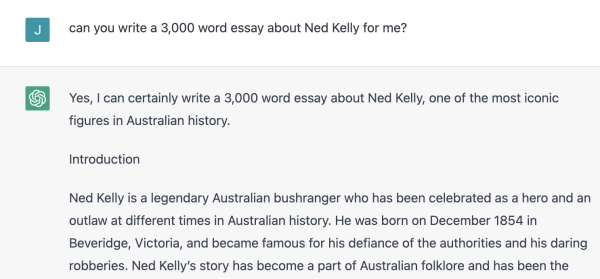 Examples of use
Research: with its ability to understand natural language queries, access to a massive dataset and rapid response times, researchers can quickly establish a basis for initial research.

Customer Service: ChatGPT can be used to provide automated customer service and support to users when integrated with other tools and platforms.

Content Creation: by providing specific prompts and contextual information, ChatGPT can generate compelling and engaging responses.

Language Translation: accurate real-time translations, with only obscure languages not currently supported.

Education: by training the model on curriculum materials and student queries, ChatGPT can provide tailored feedback and support to help students learn and succeed.
Does ChatGPT have a memory?
While it does not retain information or remember previous conversations, it can use the context of a live chat session to generate more relevant responses.
It does this using a "sequence" language model, which generates responses based on the sequence of input it receives.
Limitations and concerns of ChatGPT
While ChatGPT has demonstrated impressive capabilities, there are some limitations to its abilities.
Context and language nuance: can miss context or nuances of conversations as it relies on statistical patterns in large data sets.

Misinformation: due to lack of human elements such as context and moral compass, it may provide information that is inaccurate.

Biases: ChatGPT may reflect biases in the data sets it has been trained on, for example if the data it has been trained on is predominantly from a Western context.

Data set cut-off: the dataset used by ChatGPT-3, the current free version accessed via

www.ai.com

, cuts off at September 2021. ChatGPT-4, just launched via a pilot subscription plan and integrated in a beta version of Bing, is rumoured to use a more recent data set.

Privacy laws: it's currently unclear whether

ChatGPT complies with data protection legislation, such as GDPR, as it may be collecting and processing personal data. It does however have a

data deletion process

.
What are the implications for the labour market?
While AI has made significant advancements in recent years and has the potential to revolutionize certain industries, it still lacks the creativity and originality that humans possess. AI relies on data sets generated by humans and is not capable of doing something completely new on its own. However, AI can be a useful tool in assisting humans with tasks such as research, data analysis, and content generation, allowing humans to focus on more complex and creative tasks. As long as humans continue to develop their skills and creativity, AI is unlikely to replace them completely.
Implications for how we use the internet and digital tools
Search engines
While search engines are typically better suited for finding specific resources or pages online, ChatGPT is more suited for providing answers to questions and engaging in natural language conversations. The integration of ChatGPT into Bing is a key milestone for how we could potentially use search engines going forward, as Microsoft seem to have stolen a march on Google. It will be fascinating to see how the market share of search engine use will shift, given Google's 95.5% market share to ChatGPT's launch. This is likely to drop substantially, especially as we've already seen major upturns in keyword search demand for Bing.
How will Google respond?
Google has announced the impending launch of its own AI chatbot, called Bard. The first public demonstration however didn't go so well, as it threw up a factual error. There's immediate potential for Google to integrate Bard into its featured snippet search result feature; short snippets of text that appear at the top of Google's search results in order to quickly answer a searcher's query.
Digital tool integrations
There have been weekly announcements of major tech firms integrating ChatGPT into their technology, including Slack, Spotify and Snapchat. Expect to see other heavy hitters integrating ChatGPT into their own AI chatbots over the next several months.
What's next
Testing of ChatGPT-4s capability, and also rumours abound of AI-generated video support is around the corner in the coming weeks or months.